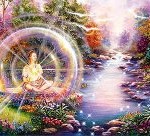 In This Event You Will Learn How To Calm Your Precious Mind
While all the resources that you rely on is to navigate your life, your brain is the one you take most for granted, which is also the one you rely on the most.
Most people don't think of their mind as a "resource" but when you'll think about for just a moment you'll realize that it's crystal clear. Our mind is the greatest asset, and it's something that we rely on for just about everything we do.
Take a moment and ask yourself these questions;
* Where would I be without my intelligence, imagination and creativity?
* How would I survive without my memory, my intuition or my ability to reason?
Remember:
You rely on these mental faculties every day of your life, so where does that leave you if your mind is unclear?
The reasons you need to Improve your mental clarity are:
So you can perform well in your job.
So you can be able to learn and retain information.
So you can work on any sort of complex problem.
So you can be sure of your purpose or direction in life.
So you can quite your mind during stressful time, so you can relax and think clearly.
So if you can't seek clarity in uncertain times,
Then this event is for YOU!
There is a Suggested Donation at the Door of $15.00
PayPal Donation: http://tiny.cc/dytxv
PS: This event may take anywhere from one hour to two hours, so make sure you come with intention to explore.
Looking Forward to Meeting You All.
Please do not RSVP if you cannot make it.
This year anyone one who RSVP three times and does not show will be removed, if you don't RSVP because you not ready yet, you will not be removed from this group, only the one who RSVP and removed themselves last minute or they simply don't show.
This event will be a weekly event, unless its changes…
PS: Also if you have money a issues, please attend and donate to the best of your ability.
Your donation is to help us with our non profit so we can open a real center.
Peace and joy!
Doreen Cohanim