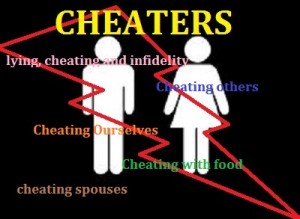 Everyone does it sometimes. Some do it regularly—shoot themselves in the foot or put obstacles in their own chosen path. Behavior is self-sabotaging when in attempting to solve or cope with a problem, it instigates new problems, interferes with long-term goals,  and unsettles relationships.
This specific support group is for all type of cheating,self-sabotaging; the enemy within, from cheating spouses to eating disorders, comfort eating is a common form of self-sabotage, especially when a person has weight concerns; self-medicating with drug or alcohol is another common form, although procrastination may be the most common of all. Less common is self-injury/cutting to escape painful emotions, or going on shopping sprees when one can't afford the merchandise. While cheating, we will be looking for understanding and strength. Betrayed spouses are welcome to join as well, however if you decided to join, please make sure that you can do so in a supportive manner (no bashing, blaming, etc).
Please keep in mind that this event is for all type of cheaters aka self sabotaging behaviors, your personal information is protect and only shared between the group, either if its with food, habit, behavior, sex, telling lies, or other, and no matter as how you going to look at it, it's all linked to one thing, "cheating"!
Please remember this event is aimed at support and understanding for cheaters.
There is a suggested donation of $20.00 via paypal http://tiny.cc/r3d5pw or $30 cash at the door.
This support group is once a week.
Sincerely, Doreen